Lenticular Products - 3D Lenticular Key Chains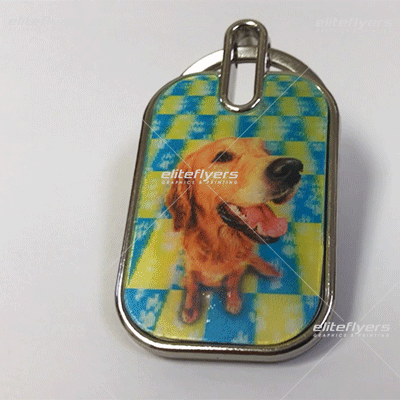 3D Lenticular

Key Chains

Printed with New Effects like True 3D and Flip Effect

.
Printed on a 20mil Lenticular Lens Sticker.
3D Lenticular 1 or 2 Sides
Available in increments of 500, 1000, 2500, and 5000.
3D or FLIP Effect Only
Stainless Steel Body with key ring.
1 design only. Sorry No order splitting.
Ready to ship in 22-24 business days *
Need a custom quote please fill out our custom Quote Form.
If you are submitting your own files for printing and choose rounded corners do not include rounded corners in your art. Please submit your files as a standard rectangle. We will know to round the corners.
IF YOU ARE EXPERIENCING TROUBLE UPLOADING YOUR FILES, PLEASE EMAIL ARTWORK TO INFO@ELITEFLYERS.COM
Lenticular Key Chains- Nothing quite so hot as these 3D Lenticular Key Chains has come onto the advertising industry in years, and Elite Flyers is thrilled to be able to offer you these Lenticular Key Chains at the lowest prices on the market. Our dynamic 3D Lenticular Key Chains are shape shifters cooler than anything you've seen in any Harry Potter movie or horror flick. As you rotate the 3D Lenticular Key Chains in your hand, the shiny, futuristic-looking image will change, giving you a card that essentially has two or three images on it instead of one. This is because the lenticular images are digitally interlaced pictures embedded with rows of optical grade mini-lenses. These images focus light on various sets of strips on the surface of the card and magnify whatever image is there. When you view the 3D lenticular image from different angles, the illusion of moving is created. This means that your 3D Lenticular Key Chains can be used like a flip-book to show a series of actions.
You can use 3D Lenticular Key Chains to show sporty activity or to show before and after pictures. For example, if you're a personal trainer, you can use your 3D Lenticular Key Chains to show a particularly impressive client's progress. Hair stylists can make similar use of these 3D Lenticular Key Chains. You can also use 3D Lenticular Key Chains to showcase the same message in several languages, or to depict multiple products on one card… but that's just the beginning. The sky is the limit with these gorgeous and unique 3D Key Chains, and no matter how you use them, they are sure to get a response. You can choose two or three image flips for your sturdy and durable 3D Lenticular Key Chains, and print anywhere from 100 to 5,000. See what flashy, cutting-edge 3D Key Chains can do for your business – order today!
24/7 Service & Support
Info@EliteFlyers.com
Toll Free: (800) 538-8091